I'm spilling my cosmetic bag to share some of my favorite summer beauty products. Most of these could be used year round, but they're all great for summer! What are your favorites? I'd love to hear below. I am in need of mascara suggestions, I haven't found the right one yet. This post is actually helping me decide what to pack for Europe!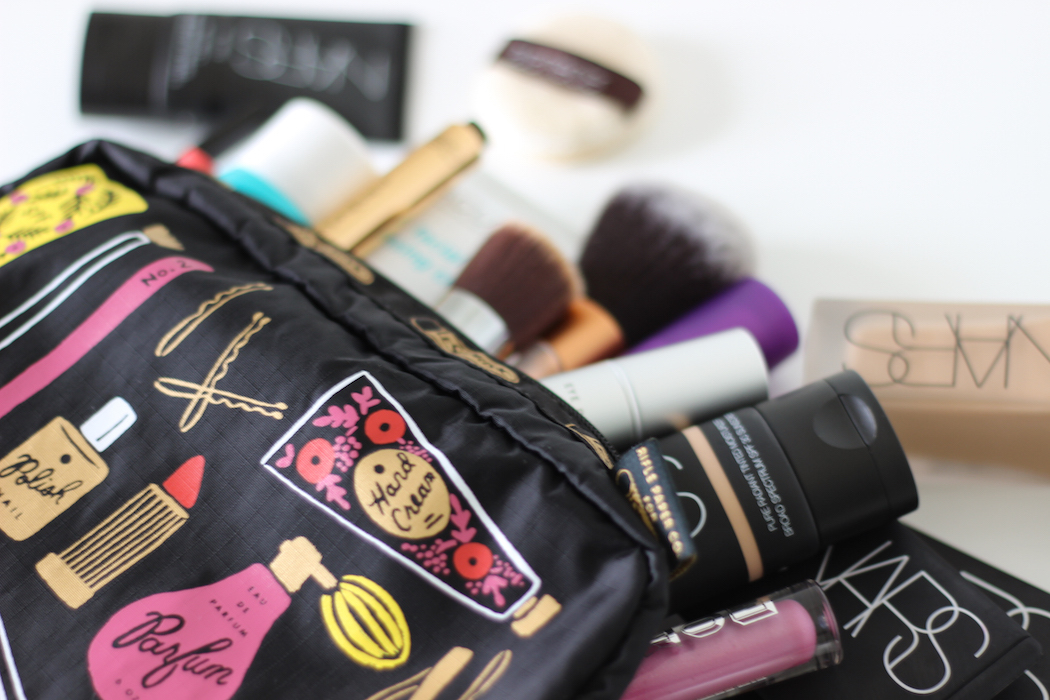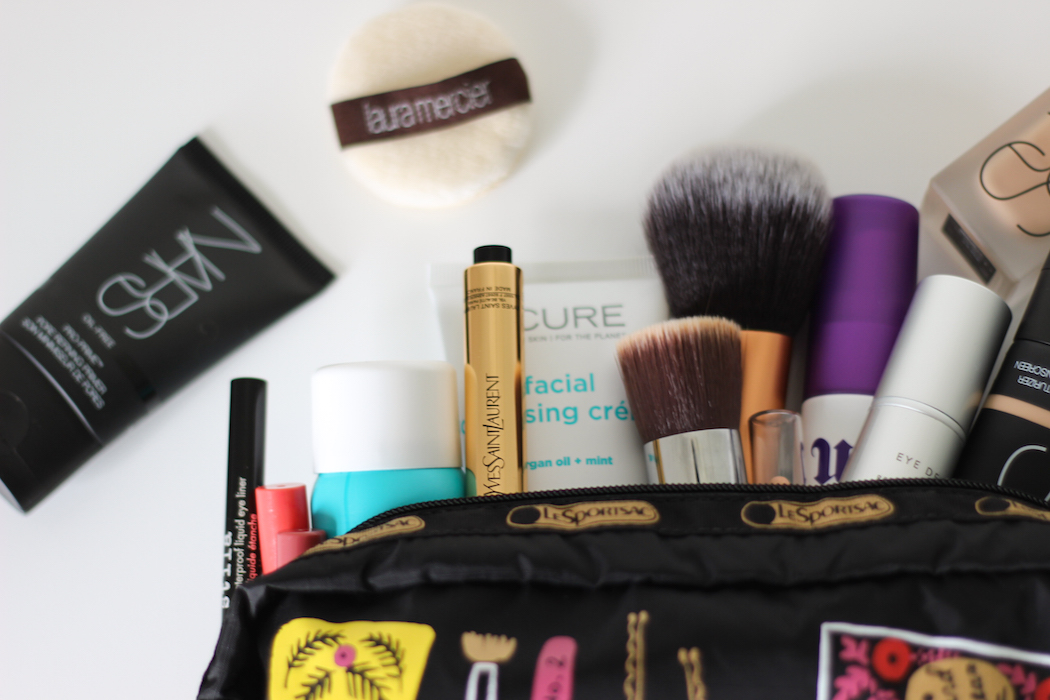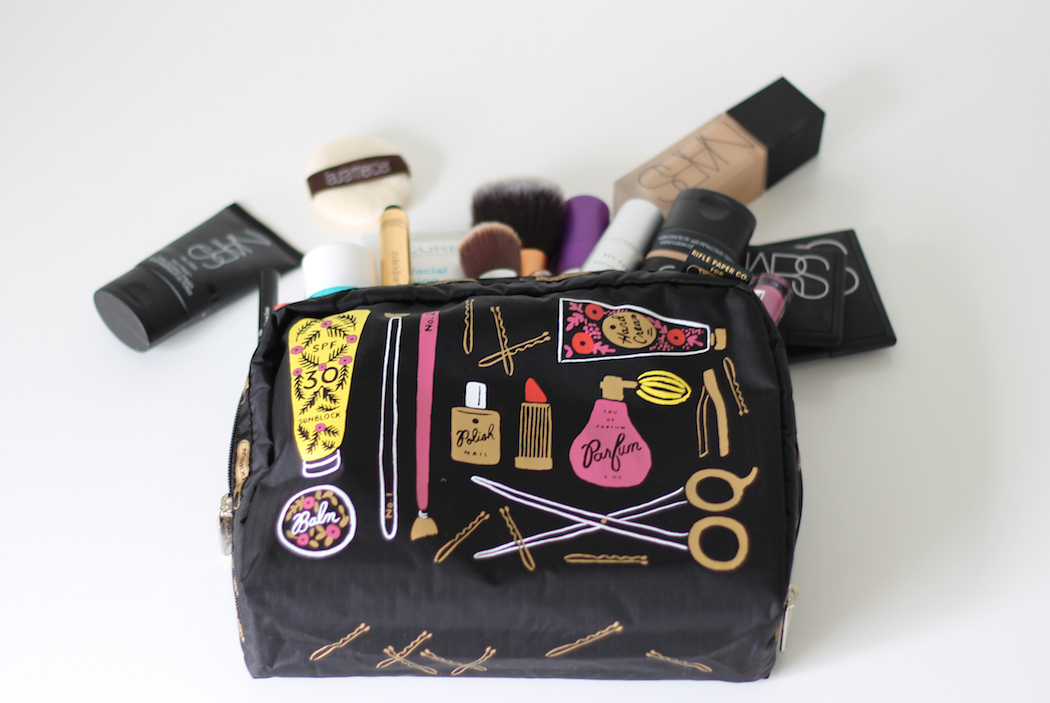 Cosmetic Bag After using the same old, beat up bag for the past nine years, I decided it was time for a new one. This is from the Rifle Paper & LeSportsac collaboration. It holds a lot; there is room for everything pictured here and more!
Acure Facial Cleansing Creme Argon Oil + Mint This might be my favorite thing on the whole list. I started using this face wash about 5 months ago and absolutely fell in love. The mint is so refreshing, especially if you have been out in the hot sun all day. The lack of harsh chemicals on the ingredient list is pretty great too. I wouldn't recommend this for those who struggle with acne. Although it's great for maintaining skin, it doesn't actively fight acne in my experience. If I have a breakout I switch back to one of my old face washes for a few days. Acure has so many great products on their website. I also really enjoy their organic argon oil as a face moisturizer. 

Arcona Eye Dew This eye cream is amazing. Even though it says it's for morning use, I like to put it on after I shower, which is before bed. When I wake up my under eye looks/feels amazing! It really does give you a "dewy" look so if that's not something that appeals to you I would look elsewhere. The product has a unique smell to it that I can't get enough of. Usually I'm easily bothered by scents because of my migraines, but not this one.

Moroccan Oil Hairspray If you hate hairspray that makes your hair look and feel stiff, then definitely give this a try. A full size bottle will usually last me four to six months. The one pictured here is travel size, which is perfect for vacations or throwing it in your make-up bag!

Urban Decay All Nighter Makeup Setting Spray After a lot of research, I bought this setting spray to use on my wedding day. However, after testing it out a few times, I can't believe I was ever going without it! This is key if you have a long day or will be out in the heat with a face full of makeup. It's super refreshing too.

Sigma F80 This is one of the softest brushes I have ever come across. It's great for a smooth foundation application.

Real Techniques Powder Brush Another soft and fluffy brush, this one is great for applying powder or softening lines.

Beauty Blender This isn't pictured, but it should be. I love my beauty blender! The trick is to get it wet before applying foundation. After each use I wash it with my Acure face wash. I like to use it for my NARS foundation even though they tell you to apply it with your fingers.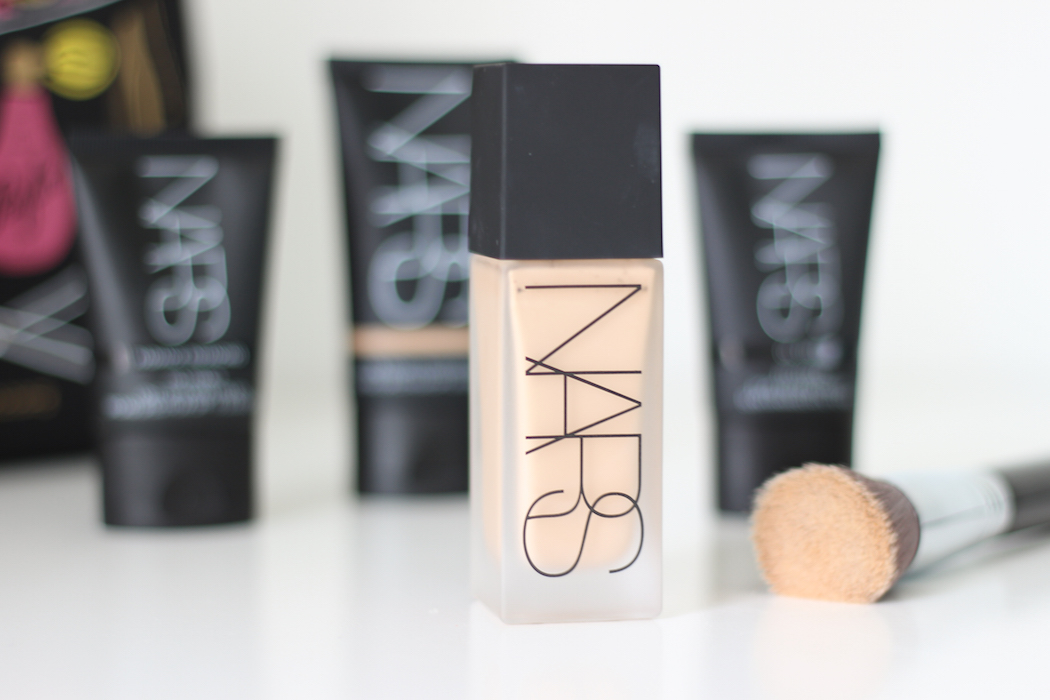 NARS Oil Free Primer I have been using this for years and love it under my bare minerals powder foundation, NARS foundation, and even with a bare face! It makes my skin feel lovely.
NARS Light Reflecting Primer This is a new one I'm trying out and so far I really like it. It works well with a more full coverage foundation and keeps your face from looking too matte.
NARS Tinted Lotion This stuff is amazing for summer! It's perfect for daytime use (it does have SPF) when you want to even out your skin tone without feeling like you are wearing a lot of makeup. I like to use it with my oil-free primer on a hot day. Although you can apply it with your fingers, it goes on nicely with the Sigma F80 brush.
NARS All Day Luminous Foundation NARS has been my go-to for years when it comes to special occasions, but I had started to feel unhappy with the matte wear foundation. It was a pleasant surprise when I visited the NARS counter and was told they replaced my old foundation with this one. I can't even express how much nicer it feels! It actually starts to look better the longer you leave it on.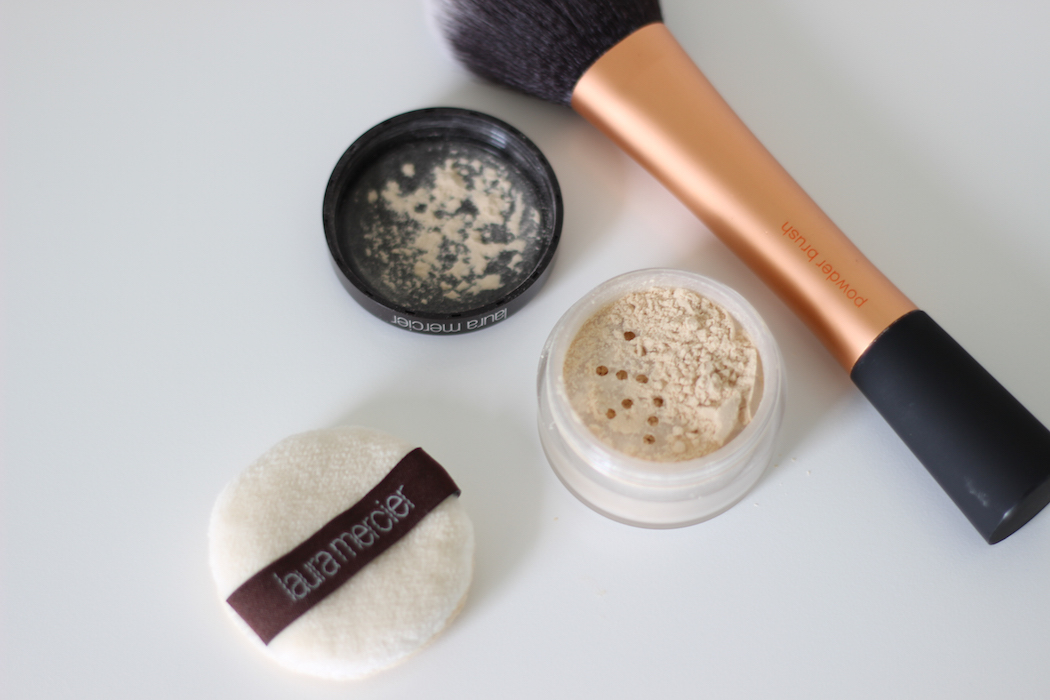 Laura Mercier Transluscent Setting Powder Another travel sized item, this is perfect for basically any foundation you're wearing.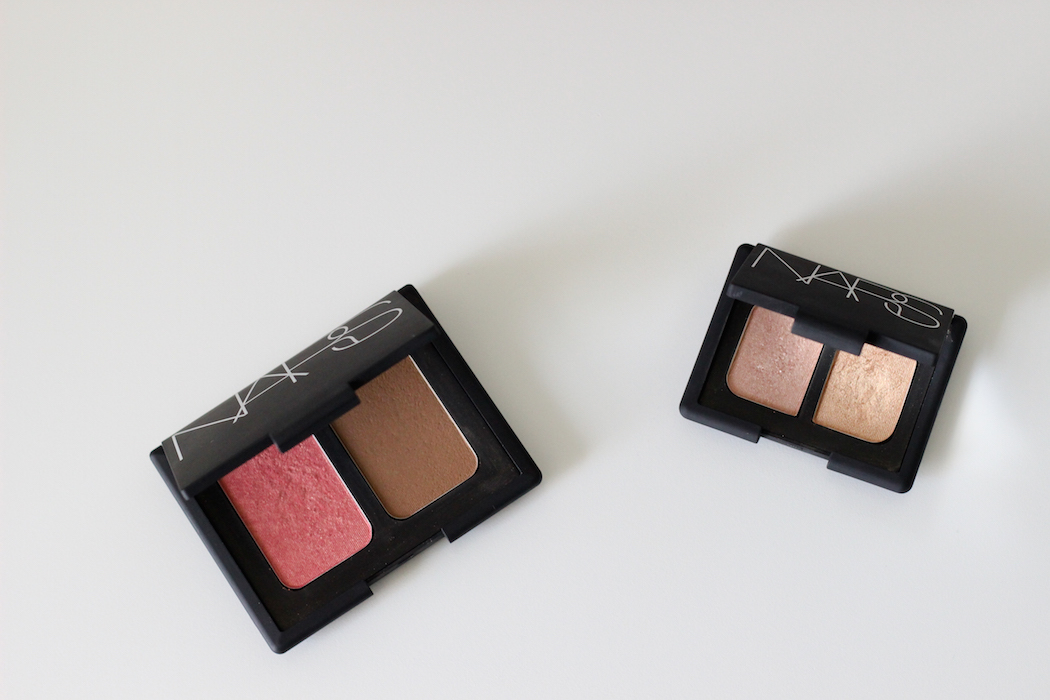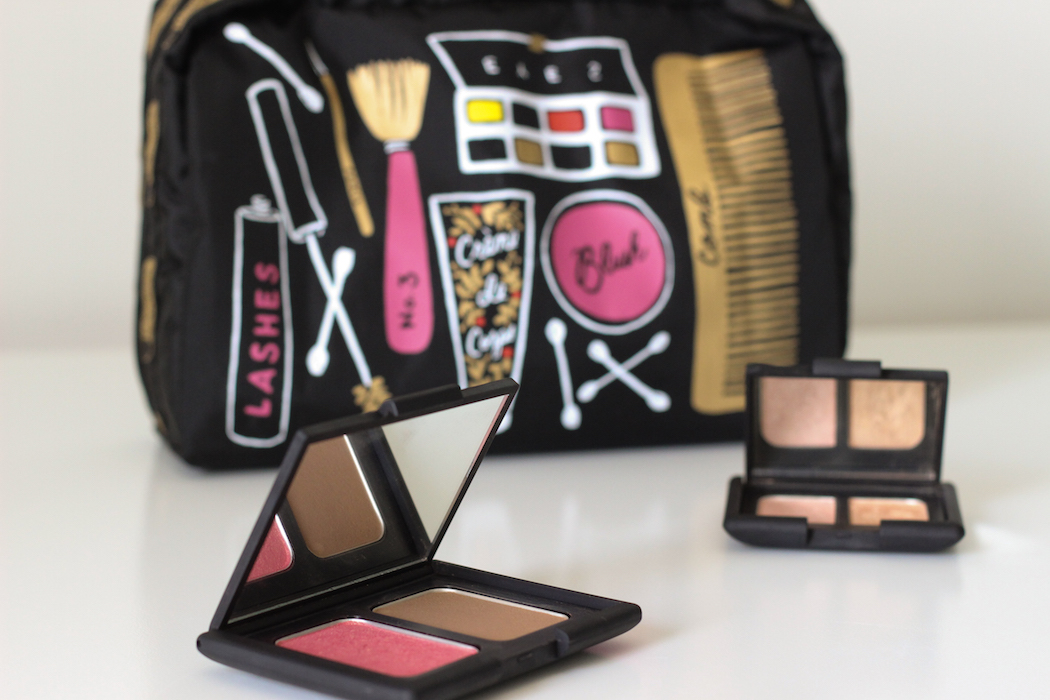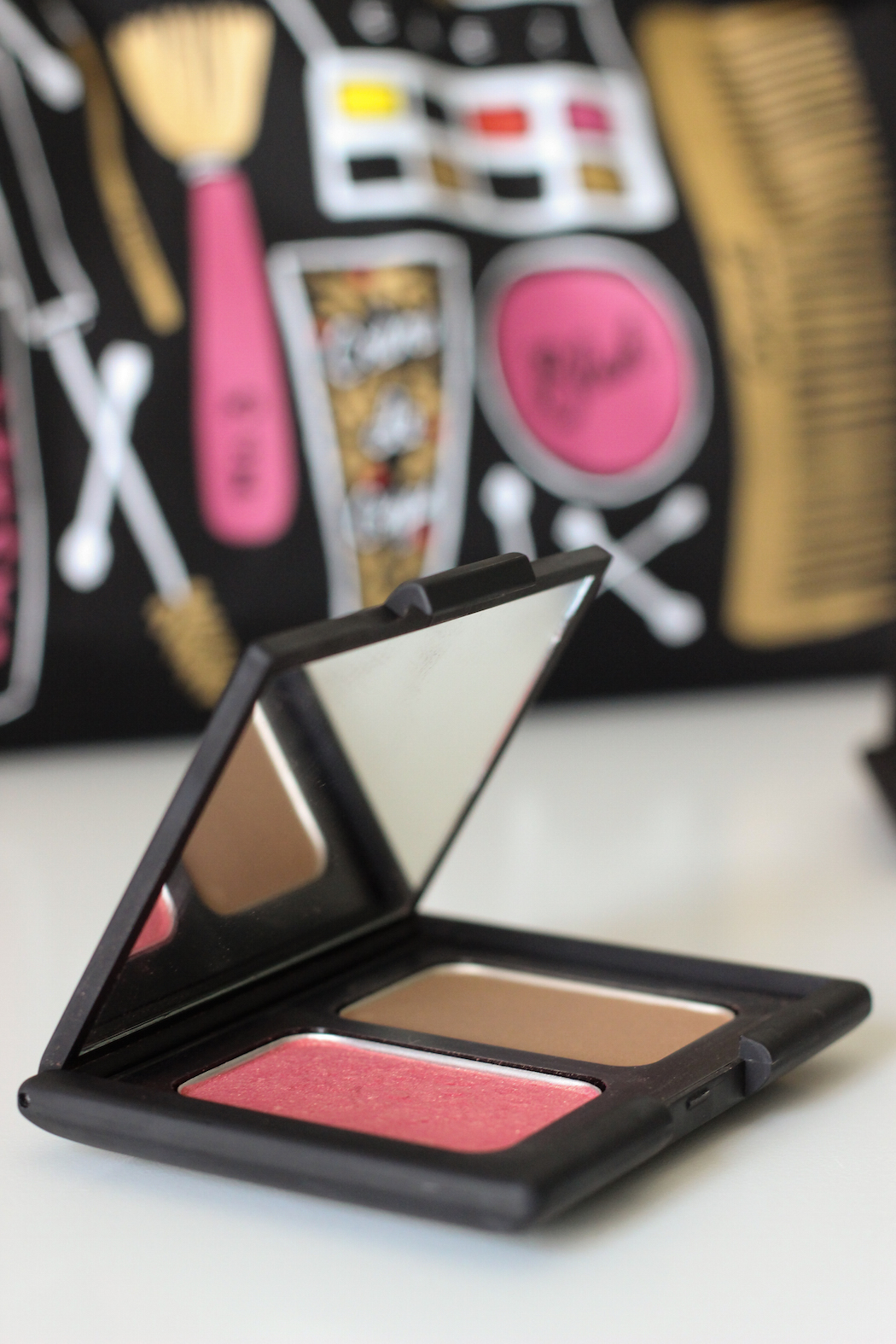 NARS Laguna and Orgasm Duo A cult favorite, this duo really comes in handy. They are both classic shades and look particularly good with a summer tan. I can easily knock out my blush and contour with this duo on the go.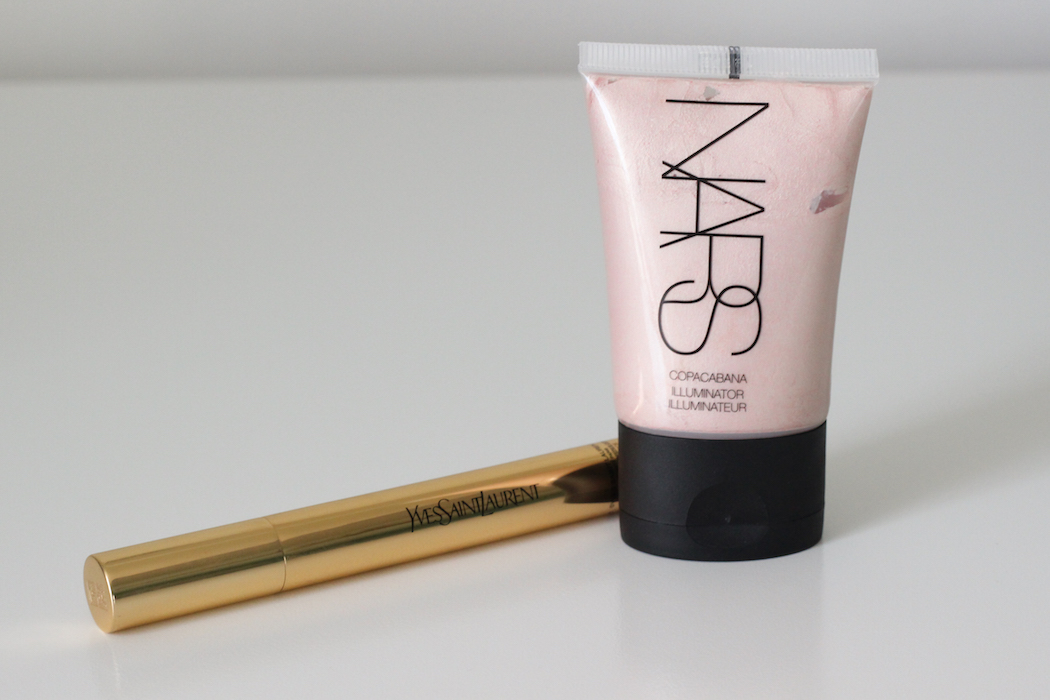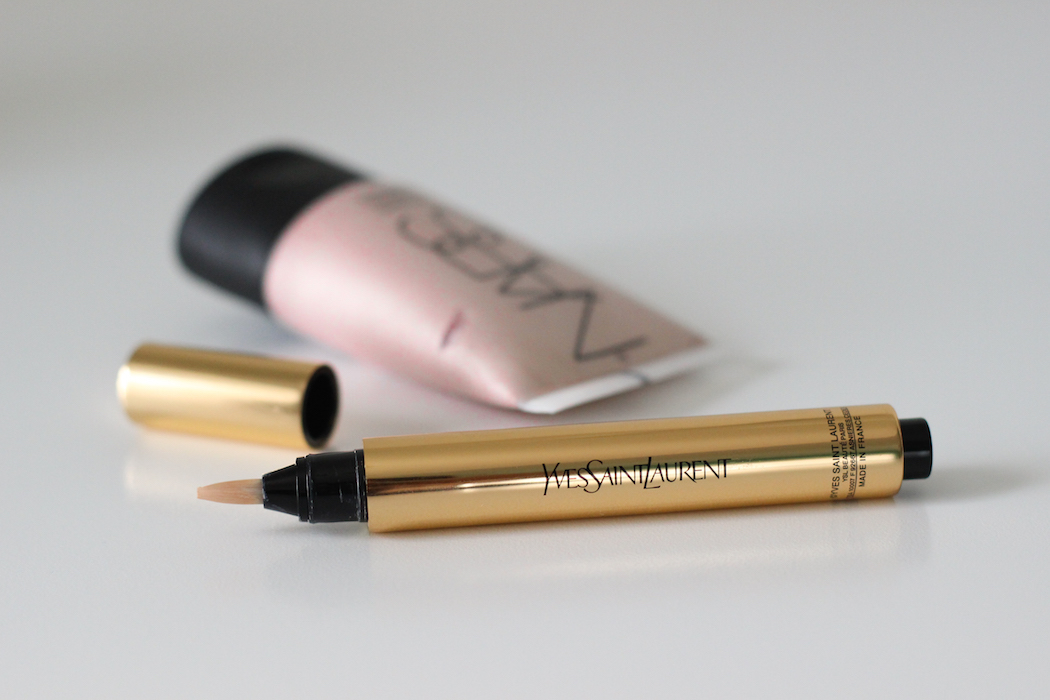 NARS Illuminator in Copacabana This illuminator comes in all different colors and would be a great addition to the NARS tinted lotion for an easy summertime glow. Like most of their products, this is lightweight and a little goes a long way.
Yves Saint Laurent Touche Éclat Didn't get enough sleep? Dab a little of this on your under eye area and you're good to go 😉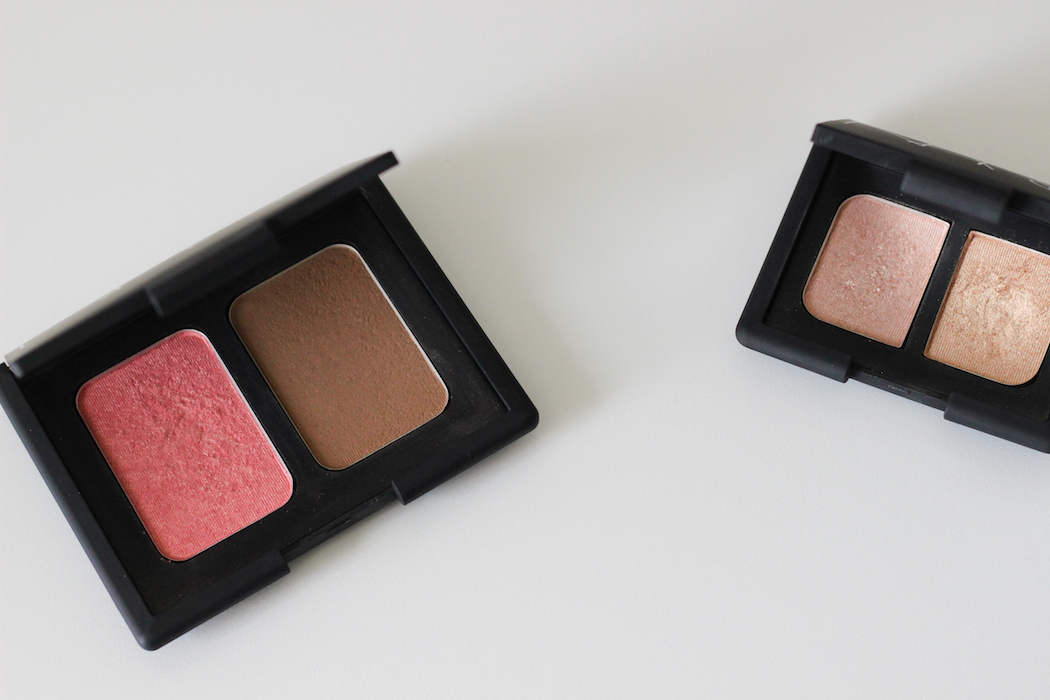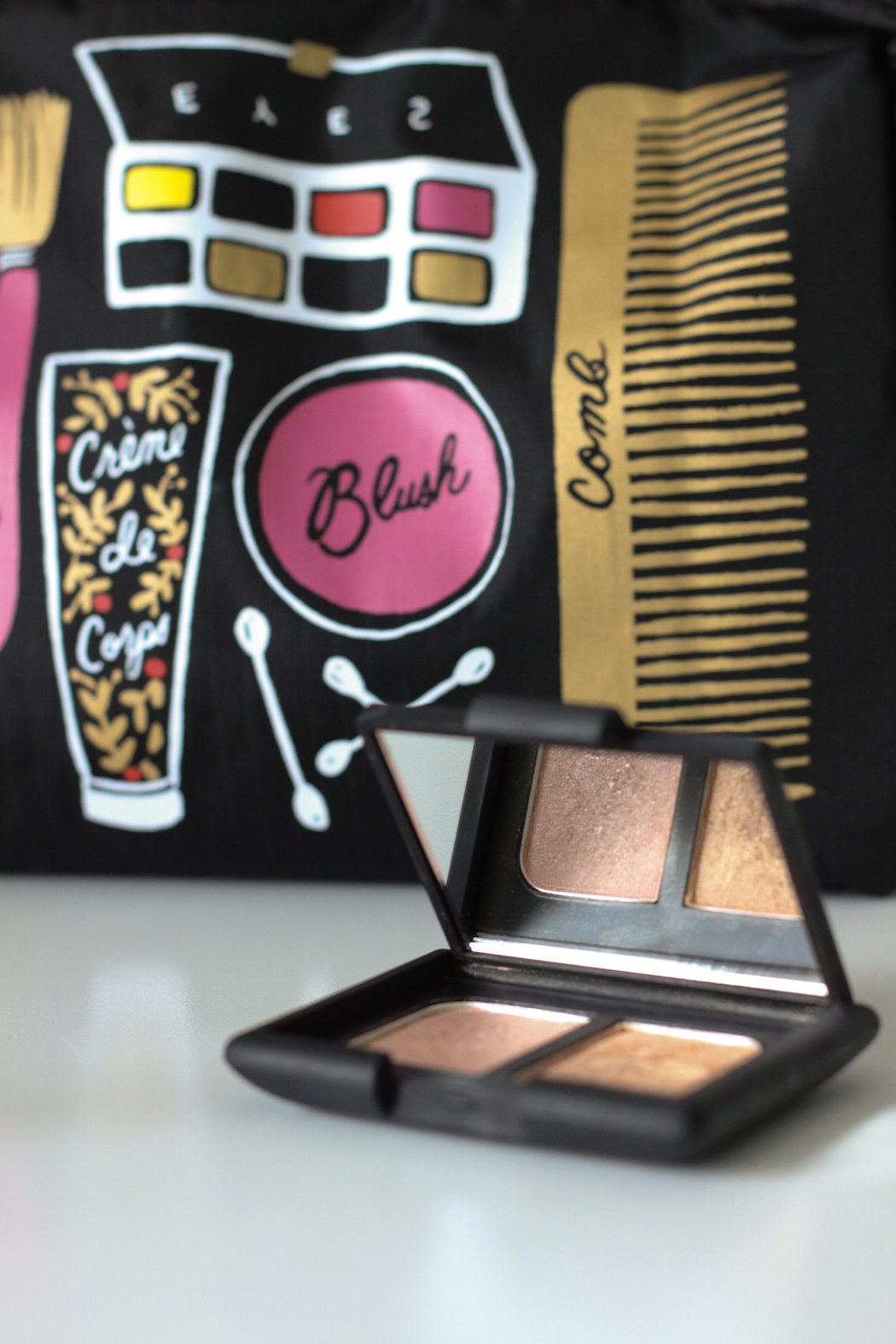 NARS Eyeshadow Duo in Alhambra This is by far my favorite shimmery eye shadow! The duo consists of two peachy-champagne colors that are flattering to wear for day or night.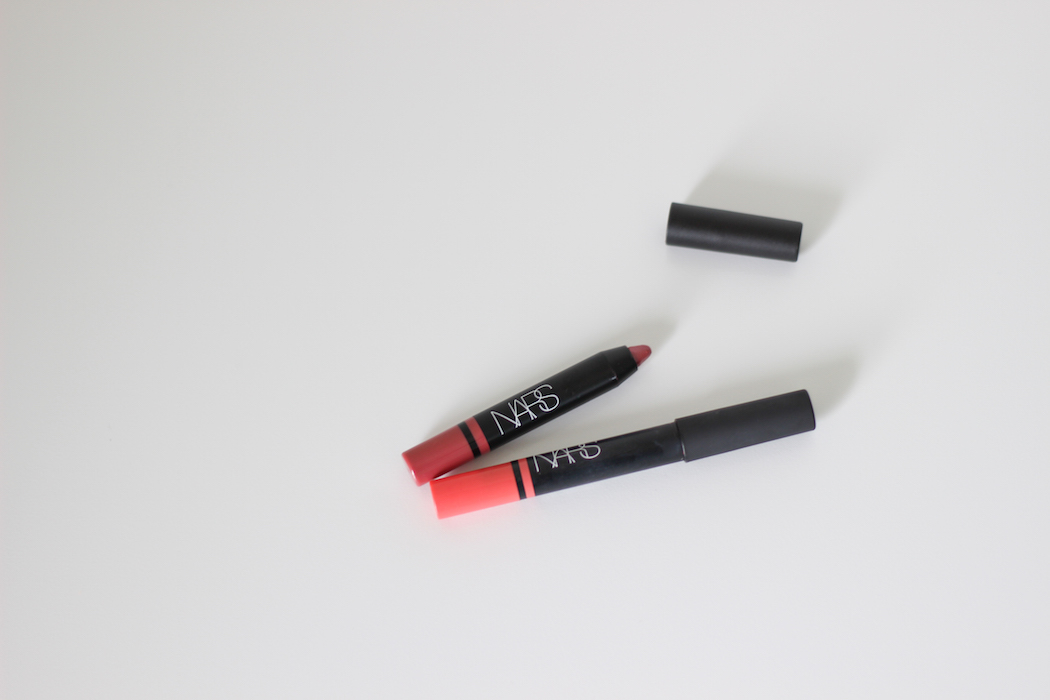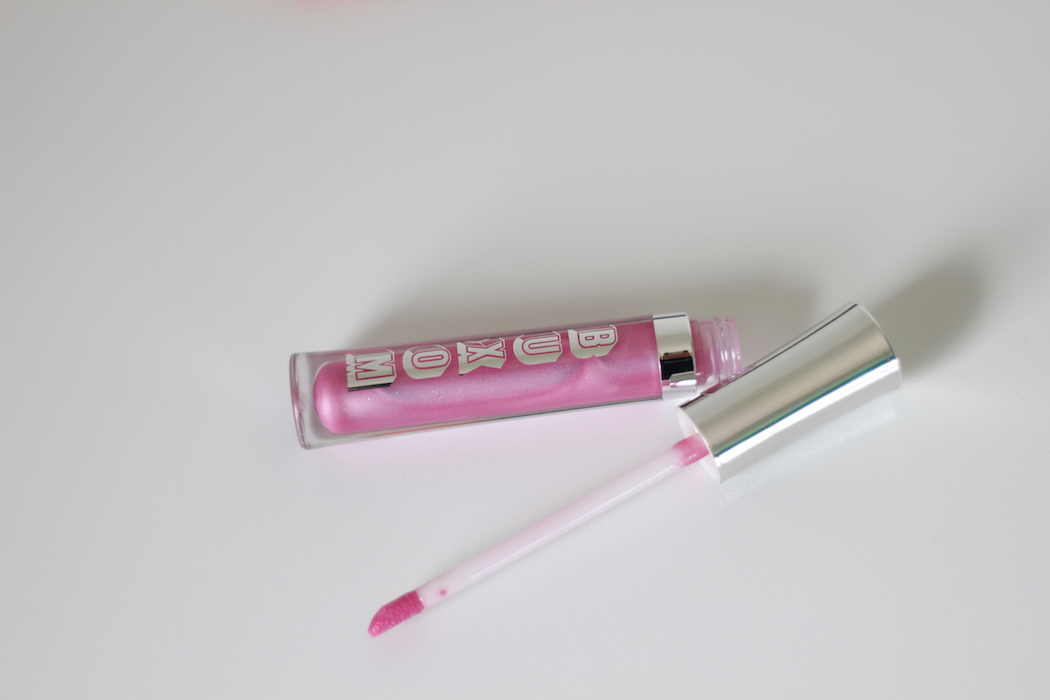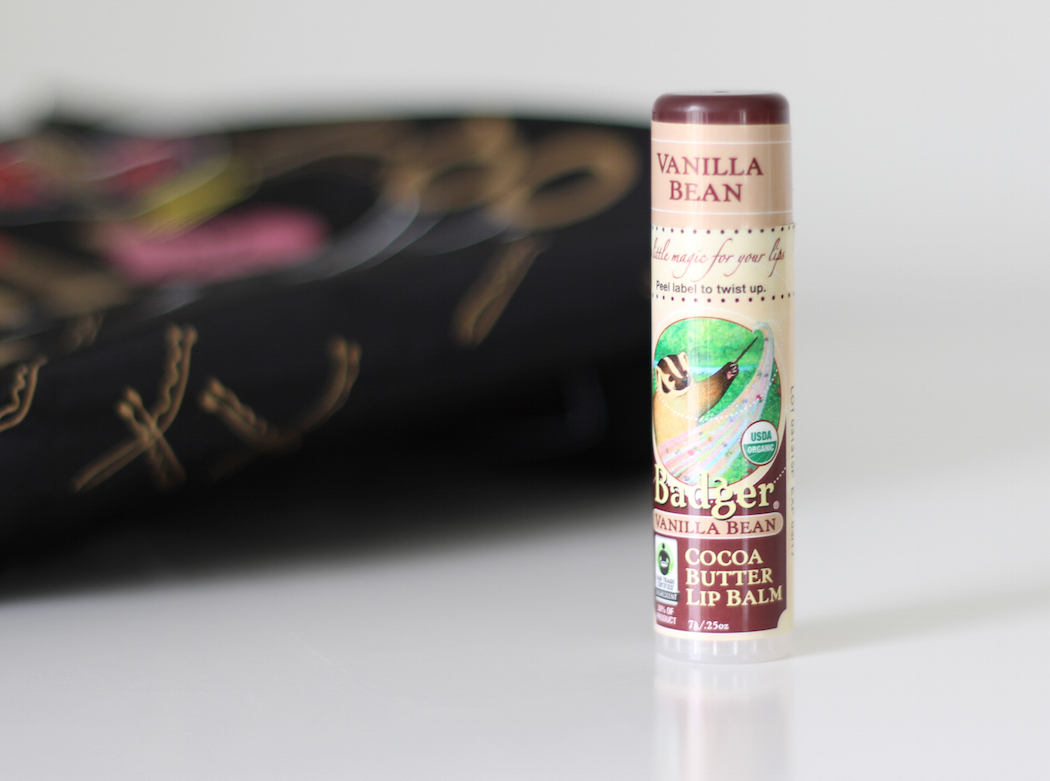 NARS Lip Pencils I've raved about these many times before, but I'll say it again. If you're like me and hate messing around with lipsticks and liners, try these. I think I have 6 or 7 different colors and haven't been disappointed yet. My favorite is the color Rikugen.. I wear this one year round. Also pictured is Lodhi, a bright coral, which is fun for summer.
Buxom Lip Gloss in Dani I am a bit of a lipgloss addict. I love how gloss feels on my lips, so even if I'm not wearing makeup I have this on! Dani is my daily color, but I also really like the Buxom Lip Creme in White Russian.
Badger Organic Vanilla Bean Lip Balm I picked this up on a whim before our trip to Curaçao and have been using it ever since. Badger is a great brand all around. This particular lip balm smells heavenly!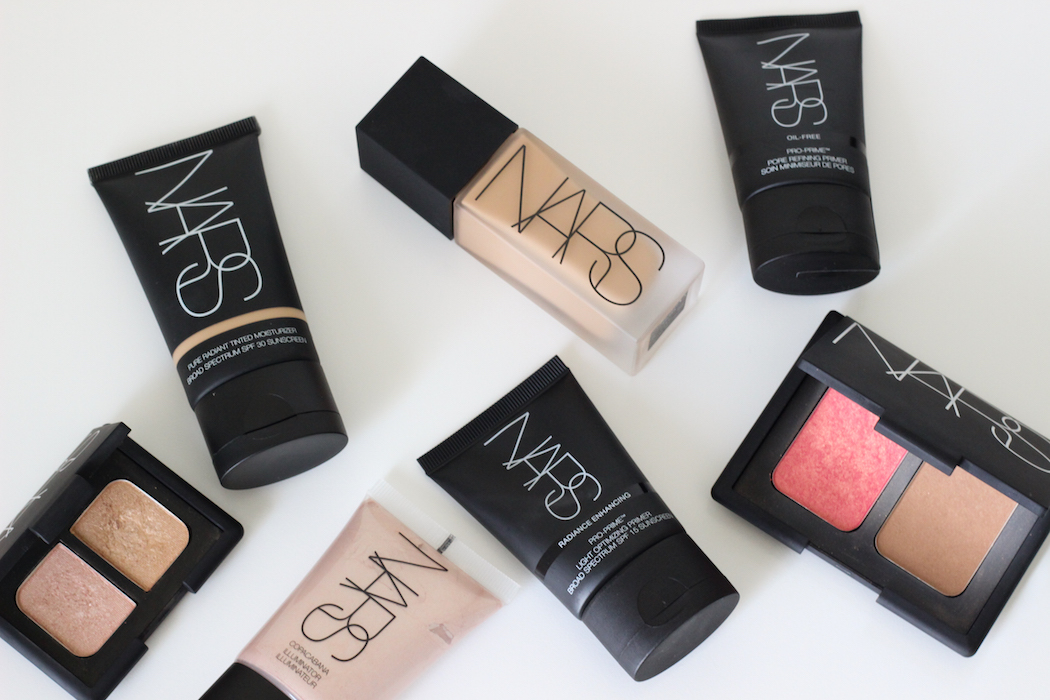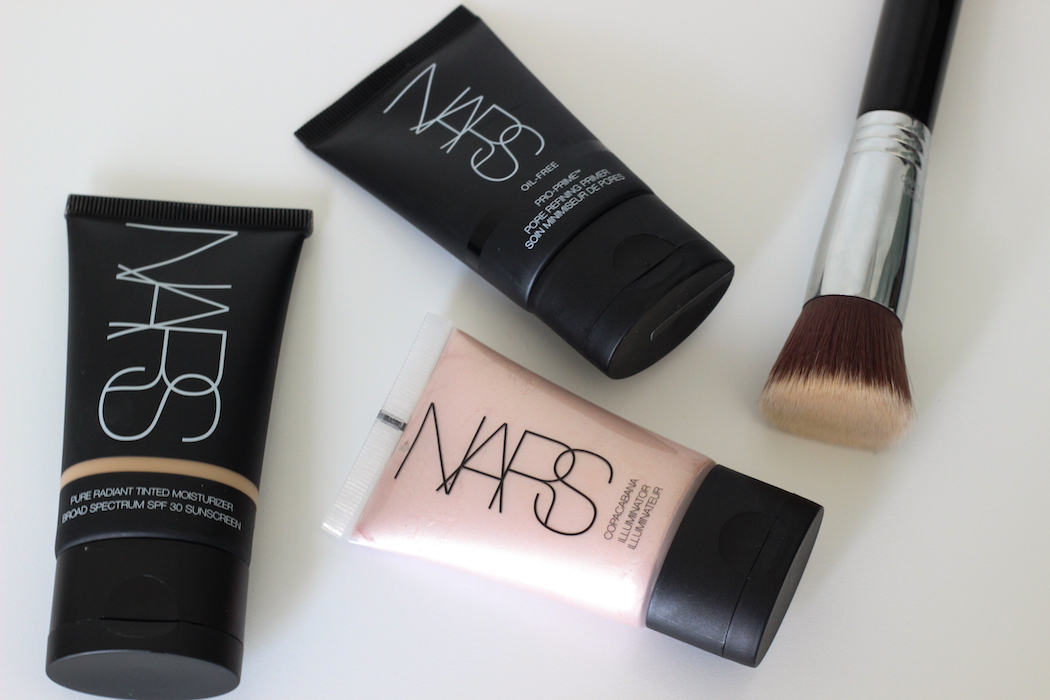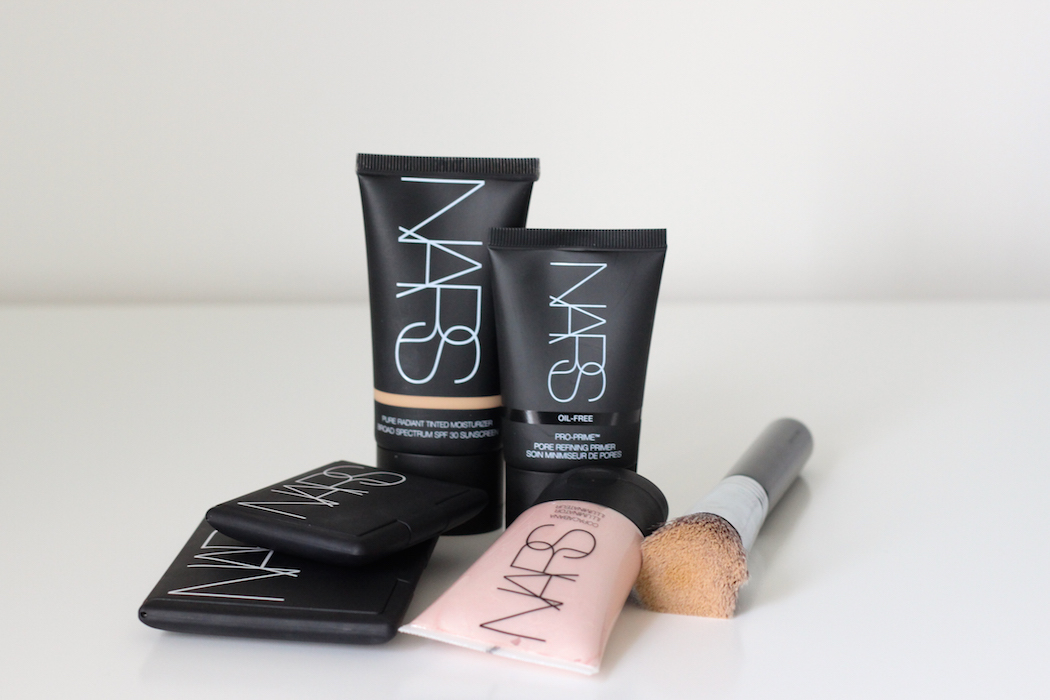 I clearly have a thing for NARS, but that's just because it's a brand I have found works really well for my oily skin type. Their products also end up lasting me years, so even though they are pricier I rarely have to repurchase items. Here are my picks for the easiest summertime looks.
Day Oil-Free Primer, Tinted Lotion, Copacabana Illuminator, Orgasm Blush, Lip balm, Sunglasses
Night Radiance Enhancing Primer, All Day Luminous Foundation, Orgasm Blush, Laguna Bronzer, Alhambra Eyeshadow, and your favorite mascara, eyeliner, and lip color!